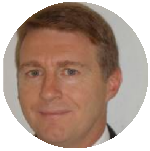 Michel is the VP marketing of the company
He is a Master of Science graduate from Ecole Centrale de Lyon, France and has a PhD in Electronics (University of Lyon, France, 1983). In 1992 he finished the completion of an MBA, from IAE Aix-en-Provence, France.
After 8 years of R&D and technical experience at Thales (two patents applied), Matra and Cypress Semiconductor (two years in USA), he held for 18 years (of which one year in Asia) at STMicroelectronics several major positions in Business, Financial control and general management. More particularly, from 1997 to 2002, he has been, in the activity of Secured Solutions, the General Manager of the Telecom and Multimedia Business Unit (102 millions Euros of Sales turn over).
His numerous responsibilities, namely in Strategic Marketing, Business and general Management led him to initiate, elaborate and negotiate major contracts with Asian and USA companies.
He has used this strong experience, working from 2007 to 2010 as a Consultant for miscellaneous Companies, providing advice and support mainly in Finance, Project Management and International Business Development. He then joined in 2010, as General Manager, the Ethertrust Company which is involved in the fields of Security and Web Identity management